Afin de conclure notre série Atmos, nous avons décider de vous parler d'un pack qui n'est pas « over-hyped » (et ça fait du bien) : la Air Max 1 Atmos Camo / Animal Pack. Sortie en 2013, cette nouvelle collaboration avec l'enseigne japonaise Atmos au rendu animal propose deux paires : l'une au design Tiger Camo / Snakeskin et l'autre au design Desert Camo / Leopard. Pour la Tiger Camo, on retrouve un upper en snakeskin et un mudguard avec un très beau tiger camo sur une Air Max 1 PRM. Cette paire était plutôt destinée à la clientèle masculine.  En ce qui concerne la Leopard Desert Camo, on retrouve une Air Max 1 PRM classique avec un print Desert Camo sur la majorité de l'empeigne mais également un Leopard Print sur la mudguard ainsi que sur le haut de la tige.  On se doute évidemment qu'elle était plutôt destinée aux femmes. Pour l'anecdote, ce pack était sensé sortir en Janvier 2013 mais a été reporté au 23 Février 2013, la demande était tellement forte au Japon qu'Atmos proposait la réservation d'une paire.  Toujours dans le souci du détail, Atmos proposait également deux tees et deux casquettes afin de matcher ce joli pack.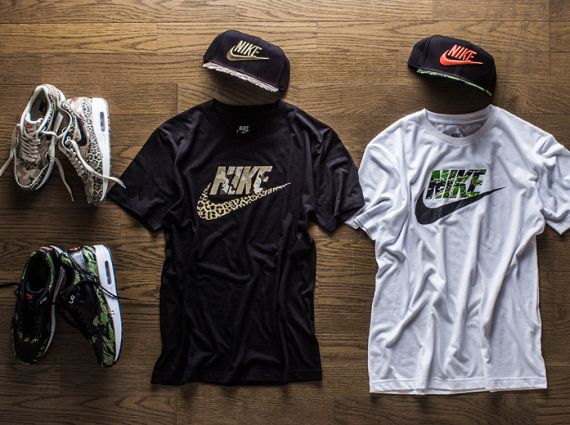 On retrouve une sélection de photo ci-dessous :
_________________
To conclude our Atmos series, we wanted to talk about a non « over-hyped » pack which is the Air Max 1 PRM x Atmos Camo/Animal Pack. Released in 2013 and in-store only exclusive to Atmos location in Asia, this new collaboration features two pairs dressed in animals & camouflage prints. The first one and most appreciated of the pack is the Snakeskin. Mostly designed for men, this pair features a nice snakeskin upper mixed to a subtile tiger camo on the mudguards. The second pair, the Leopard Camo target the women Am1's addicts. On a Air Max 1 PRM silhouette, this pair feature a Desert Camo print on the upper and toe-box and also a Leopard Print on the mudguard. This pack was initially supposed to release on January 2013 but it had been delayed to the 23rd of February. Demand was so big Atmos decided to open reservations by e-mail.